New to Gensolve AEM in version 7.11: Client vaccination status, create Trials and Quotes if the Binaural option is automatically set, order tracked items outside of a Trial, invoices export updates and more.
You can check out the full release notes here.
The release will occur for AEM on the evening of Friday, 11th March 2022. Please note your Gensolve may have disruptions from 9:30pm and evenings over the weekend while we apply necessary updates.
Tracked items can now be ordered outside of a Trial.
Your Front Office, Non-Trial Purchases settings now allow your track items outside of a trial.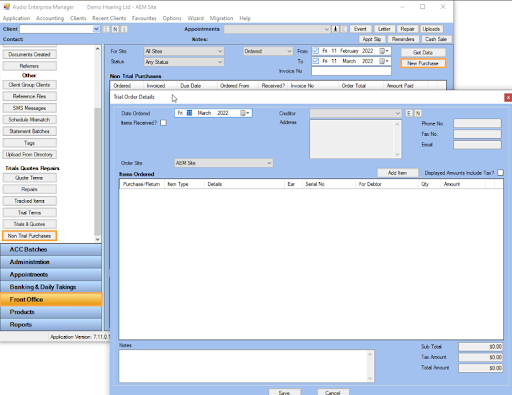 Invoices export updates
The Client Items Report has been added to the Debtors and Creditors section of the Accounting Form reports.
The export to excel can be customised as required.
Client Vaccination Status
The Client Details screen now allows you to set the client vaccination status for each individual.
Trials and Quotes
Trials and Quote are now available to create if the Binaural option is automatically set.
Fixed Asset Warning
You will now receive a warning if you try to create a new Fixed Asset that shares the same supplier invoice number with an existing Asset.
Items to Reconcile: Sort by site.
Your Accounting, Banking, Bank Reconciliation screen with enable you to sort Items to Reconcile by the Site column.
Please be aware due to changes in Facebook's Terms and Conditions we can no longer provide the ability to create a user with Facebook credentials on our Web Booking Portal.
Here are the full release notes again for more information on Gensolve AEM 7.11.
If you have any questions please don't hesitate to contact us at support@gensolve.com, or submit a ticket.