New to Gensolve for New Zealand in version 7.10: Client vaccination status, ACC updates for Acupuncturists, an important Web Booking Facebook Login notice and more. You can check out the full release notes here.
The release will occur for New Zealand on the evening of Tuesday, 14th December 2021. Please note your Gensolve may have disruptions from 9:30pm while we apply necessary updates.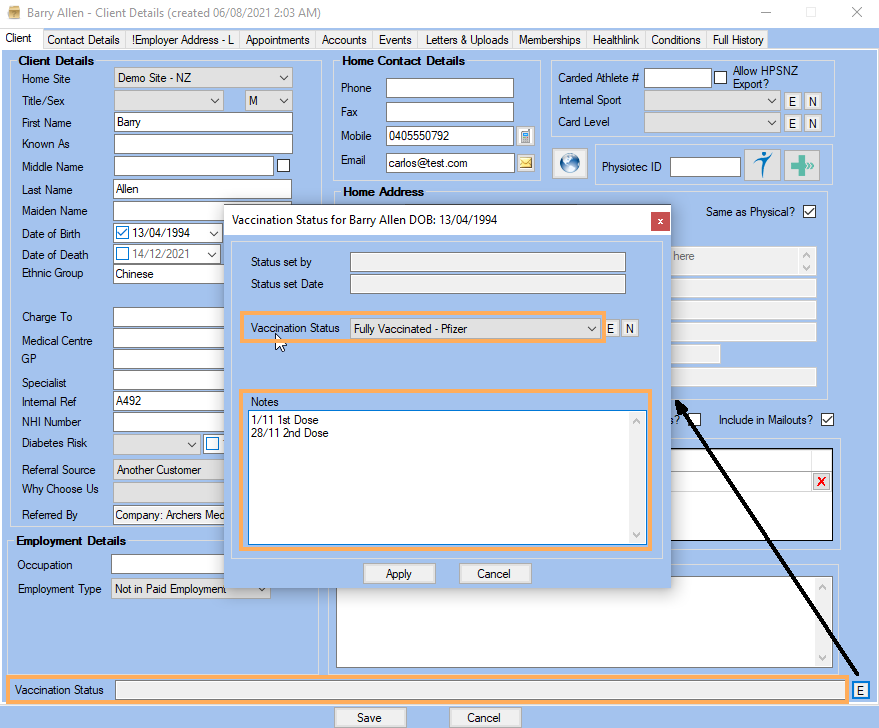 Client Vaccination Status
We have included a new Client Vaccination Status as a new setting on the client details.
Read more here. (Check back shortly for this updated link).
ACC Change to Acupuncture
"We are making changes to the way we purchase acupuncture treatments, so clients get the most benefit, based on the latest clinical evidence.

From 15 December, the number of treatments funded by us will change from 16 treatments over 52 weeks to 12 treatments over 12 weeks from the client's first appointment with their acupuncturist."
ACC has advised us of some important changes coming from 15th December for Acupuncturists. Tonight's release will reflect these changes in your Gensolve.
Any current and all new conditions will automatically show the new allowance of 12 appointments.

The 12 week expiry date will be calculated for you once the first appointment of a new condition is saved.

For existing conditions, the expiry date will be set as 12 weeks from the subsequent appointment after 15th December.

Expiry dates will also be updated if that initial appointment is rescheduled or cancelled, for example.

For existing conditions, the allowance will be displayed as the total number of appointments used prior to the 15th of December + the additional 12 new appointments.
Web Booking Portal Facebook Login Changes
Facebook has updated their terms and conditions meaning they're now calling for Facebook Auth users to have the ability to remove their account details from the database completely. Unfortunately as we need to keep health records for 7 years we are unable to comply and can no longer include Facebook login, with our Web Booking Portal.
Although this article lists some of the key new features, there are still many more updates including but not limited to:
The 'Claim No' tag on the Invoice Recovery email templates will now display correctly when emailing Insurer Schedules.
When emailing a Letter from the Contract Details form, the email suggestions for the Contract will now be available.
Using F4 will no longer display an error.
New API Endpoints for Ledgers and Payment Types
Claim Review now including past EPN appt in counts
as well as further detail on the points above in the full release notes.
Here are the full release notes again for more information on Gensolve 7.10.
If you have any questions please don't hesitate to contact us at support@gensolve.com, or submit a ticket.